Episodes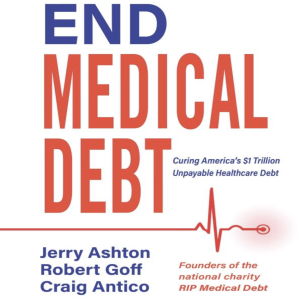 Friday Mar 29, 2019
Friday Mar 29, 2019
Quick business and health question: How much medical debt exists in this country? Keep in mind, the U.S. is one of the wealthiest countries in the world. In fact, the U.S. spends more per capita on healthcare than any other country. Well, the amount according to RIP Medical Debt will blow your mind: $1 Trillion.
What can be done about it? That's the subject of this conversation and a new book, End Medical Debt: Curing America's $1 Trillion Unpayable Healthcare Debt. The book is an extraordinary exploration of not only how this problem evolved, but also how it brings down the individuals and families burdened with unpayable debt. The authors explain how the system works or, more often than not, doesn't work. They also offer their own views on how we can get out.


The authors come from wildly different perspectives, all in the business or healthcare field. Jerry Ashton brings more than 40 years of experience in the credit and collections industry. Robert Goff spent an equal amount of time in the healthcare industry itself. Craig Antico is a financial industry leader in collections, debt buying, outsourcing, and consulting. They are the cofounders of RIP Medical Debt, which locates, buys, and forgives medical debt on behalf of individual donors, philanthropists, and organizations who provide financial relief for people burdened by unpayed and unpayable medical bills.


Here's how it works. RIP seeks out distressed medical debt in the collections industry and the community of medical providers, including hospitals and medical practices. RIP offers to buy this debt for pennies on the dollar, which is how RIP can make such a significant impact. The average ratio is 1 to 100. That means a donation of $50 can buy back as much as $5,000 in medical debt. $1 million can buy $100 million in debt.


Here's the punchline. Once this debt is in their possession, it's abolished as a gift from RIP to the patient, no strings attached, a gift made possible by complete strangers, people bailing out people. It's a simple, powerful solution to an incredible problem. Check them out at
ripmedicaldebt.org
.